Published: 16/07/2020
By John Yalor
MONACO AUCTION WEEK 2020
16-21 July 2020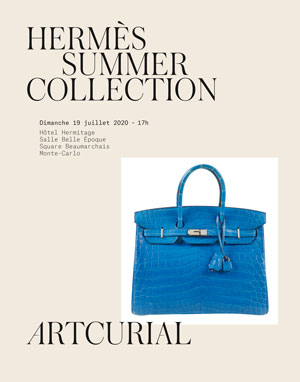 Browse the CatalogueHermès Summer Collection On 19th July 2020, a selection of Hermes' most iconic models will be presented during the Hermes Summer Collection session.
Birkin, Constance and Kelly will be available in a beautiful array of exotic and traditional skins. A few delightful pieces from the famous collaboration between Louis Vuitton and Supreme will complete the auction by adding a touch of street style.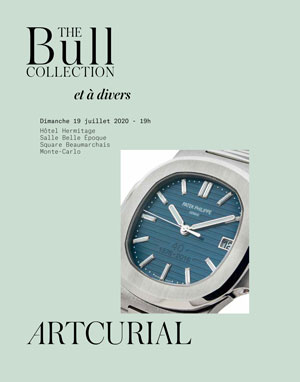 Browse the CatalogueThe Bull Collection The Watch department is thrilled to present the exceptional The Bull Collection.
With 36 lots, this collection is made up of the most sought-after models of the great names in Swiss watchmaking: Patek Philippe and Rolex including iconic models such as the Nautilus and the Daytona and a 1972 Royal Oak by Audemars Piguet.
The other chapters of the auction will present an interesting selection of pocket watches and vintage watches such as a Rolex GMT Master ref. 1675 or a Nautilus Jumbo 3700.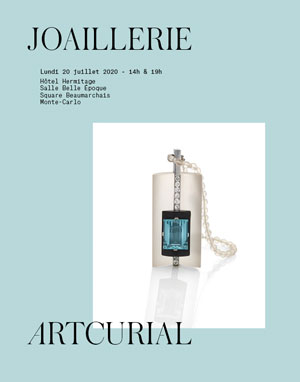 Browse the CatalogueJewellery Precious treasures retracing the history of jewellery will be presented on the 20th July: from exceptional stones to the most beautiful signatures of Place Vendôme.
Several jewellery cases from private collections represent the Art Deco period with a beautiful set of beauty boxes, a rare necklace signed Jean Fouquet or lapel clips by Suzanne Belperron. An astonishing set from the estate of Jeanne Augier, the emblematic owner of the famous Negresco palace in Nice, illustrates French luxury.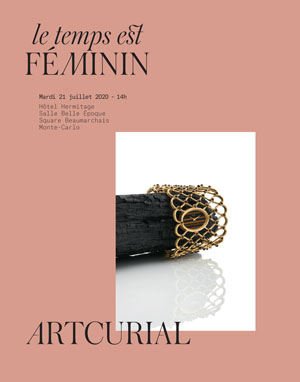 Browse the CatalogueLe Temps est Féminin On 21st July, Artcurial will be presenting its 6th edition of "Le temps est Féminin", its highly successful Ladies' watch sale, an auction paying tribute to women's timepieces from the 1930s to the present day.
Among the highlights of the auction you will be able to discover a rare "Art Deco" watch pendant from Van Cleefs & Arpels, a Cartier watch produced around 1939 and entirely paved with diamonds, an exceptional seventies bangle watch signed by Piaget as well as an astonishing secret necklace containing an Omega model, a tribute to its creator, the Swiss jeweler Gilbert Albert.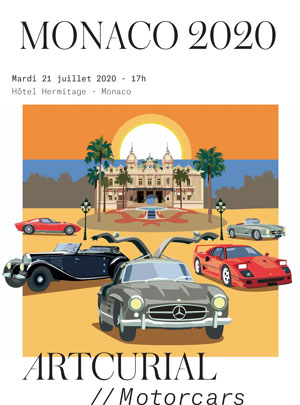 Browse the CatalogueMonaco 2020 by Artcurial Motorcars The Monaco 2020 by Artcurial Motorcars auction on the 21stJuly will feature 90 exceptional cars. All of them will be on display at the Car Museum of His Serene Highness Prince Albert II, 'Monaco Top Cars Collection' in Fontvieille, Monaco.
Information
Public Exhibition
Hermès Summer Collection, The Bull Collection, Jewellery, Le Temps est Féminin
Thursday 16 July 2020, 2PM – 7PM
Friday 17 July 2020, 12PM – 7PM
Saturday 18 July 2020, 12PM – 7PM
Sunday 19 July 2020, 12PM – 7PM
Monday 20 July 2020, 12PM – 7PM
Tuesday 21 July 2020, 12PM – 2PM (partial)
Hôtel Hermitage Monte-Carlo Salle Belle Époque
Square Beaumarchais
98000 Monaco
Public Exhibition
Monaco 2020 by Artcurial Motorcars
Saturday 18 July 2020, 10AM – 5.30PM
Sunday 19 July 2020, 10AM – 5.30PM
Monday 20 July 2020, 10AM – 5.30PM
Tuesday 21 July 2020, 10AM – 3PM
Museum "Monaco Top Cars Collection"
Les Terrasses de Fontvieille
98000 Monaco
Auctions
Hermès Summer Collection
Sunday 19 July 2020 – 5PM
The Bull Collection
Sunday 19 July 2020 – 7PM
Jewellery
Monday 20 July 2020 – 2PM & 7PM
Le Temps est Féminin
Tuesday 21 July 2020 – 2PM
Monaco 2020 by Artcurial Motorcars
Tuesday 21 July 2020 – 5PM
Hôtel Hermitage Monte-Carlo Salle Belle Époque
Square Beaumarchais
98000 Monaco